Social networking sites are changing every day and LinkedIn is at the forefront of channels adding new features and engagement tools to improve content sharing, relationship development, recruitment and lead generation.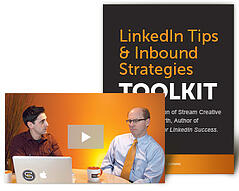 In partnership with LinkedIn expert, Wayne Breitbarth, representatives from Stream Creative have put together a toolkit to help keep you up to speed on the latest changes and trends occurring with the site as well as tactics to boost inbound marketing strategies.
What you'll get:
Download the free toolkit by filling out the form.