Creating and running a successful marketing campaign is more than just developing the creative, writing a check, and hoping positive results follow, like it used to be.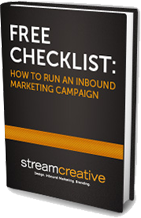 Even though times have changed and different channels are being used, the same problem remains. The disconnection between the tools and channels makes it hard to measure results, and there is a disconnect your leads' experience.
The Inbound Marketing Campaign Checklist gives you a new framework for campaigns that solve all of these common marketing problems.
Learn how to develop an inbound marketing campaign that:
Starts with the customer in mind
Uses integrated tools to connect everything
Works in any situation
Get started building your own custom inbound marketing campaign by downloading the free checklist!